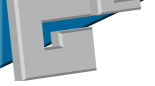 The standard Shockmaster® recoil reduction system is available for $945.00 installed on your stock, plus shipping and insurance (tax in California only). All Shockmaster systems come with 3/16" of comb height adjustment (set to bottom out either higher or lower than your current height, if you wish) and a new comb, made of solid walnut, shaped (profiled) like your original comb (unless otherwise specified) and covered with a medium brown simulated leather material (also available in black). See comb options for installing (A) your original comb if possible, (B) a soft comb, or (C) a new comb finished as near as possible to your original stock. The following features are standard on all Shockmasters:
Air CushionTM recoil reducer (Patented by G-Squared).
Air pressure adjustment without disassembly.
Upon request - Conversion of field, skeet, or sporting clays stock that currently has a drop from front to rear of comb to a parallel comb stock (parallel with rib) at no extra cost (details here). Click here for more information on parallel combs.
Adjustable sliding comb which may be raised or lowered with one single, precise adjustment.
Less than three ounces added weight. (The adjustable recoil pad adds an additional 2 to 3 ounces.)
New recoil pad included (curved or flat). Several brands are available, some at a small additional charge.
Most dimensional changes made at no extra cost. As an example, if your existing comb has a drop of 1 1/2" and you wish 1 1/4" drop, then we would make the comb adjust above and below the required 1 1/4" drop and provide the length of pull desired by the customer at no extra cost.
The G-SQUARED SHOCKMASTER recoil reduction system is available with various options which allow the shooter to tailor the buttstock to his or her specific requirements without paying for unnecessary items. Many shooters may not need some or any of the options , therefore the SHOCKMASTER is offered in it's basic configuration without the options so the shooter may select only those that are desirable or required for his or her type of shooting or shooting style.
Complete Shockmaster installation (most shotguns)

$945.00

Options

$130.00

$130.00

$130.00

Extra Combs, including installation

$135.00

No charge

$225.00

$130.00

Length of Pull Adjustment

$25.00

$100.00 - 110.00

$165.00 to 195.00

$380.00

Shipping, Handling & Insurance** (complete shotgun)

Please Call

Shipping, Handling & Insurance (buttstock only)

Please Call

$49.00
Payment options: we accept Visa, Mastercard, Discover, Personal Checks (check must clear bank before shipping), Money Orders, or Cashiers Check.
If you wish to order please call us at (760)788-8888, e-mail us your name and phone number(s). We'll call to arrange a starting date and complete a work order. This usually takes 10 to 15 minutes. Our normal turnaround is usually 3 to 5 days in our shop (more info).
* Not always possible.
** Includes up to $4000 insurance.