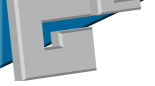 My Shockmaster®

Instructions for Adjustable Buttplate

Instructions for adjustable buttplate

Important: The Shockmaster adjustable pad is designed so that you do not have to remove the recoil pad for adjustment.
Two holes are provided in the recoil pad for adjustment.
These holes do not access the screws which hold the pad to the aluminum plate.
Use the 1/8 inch T-Handle hexagon key provided with the Shockmaster to adjust the recoil pad. DO NOT LOOSEN ADJUSTMENT SCREWS MORE THAN ONE TURN.
When adjusting the air pressure move the adjustable buttplate to the approximate center position to allow the valve extension to be screwed on freely.